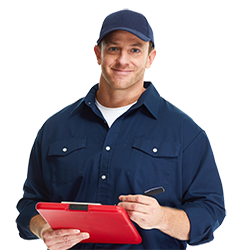 "Our franchisees love advertising on Detroit radio," says Katherine Villeneuve, Director of Marketing & Franchise Support for Auto-Lab. "They understand that radio reaches the masses, and can achieve the messaging frequency to be effective."
Auto-Lab started in 1989 as a single-independent store in Sturgis, Michigan. The company has expanded to include 21 franchises across the country. Nine of the stores are located in Metro Detroit, each operated by a local, small business owner.
Auto-Lab offers consumers the same diagnostic, maintenance, repairs, and parts as a car dealership's service department but, for what Ms. Villeneuve describes as a 'fair price'.
To drive traffic into one of Auto-Lab stores in Southeast Michigan, each franchisee contributes 3% of their gross sales to a cooperative marketing fund. Ms. Villeneuve then works with the owners to create persuasive, annual advertising campaigns.
"Each of the owners has input into how the money is spent," she says. "Afterall, because they are in the stores every day, they have the best sense who their customers are."
For the last four years, the Metro Detroit Auto-Lab owners have chosen advertising on Detroit radio as the primary way to reach new customers.