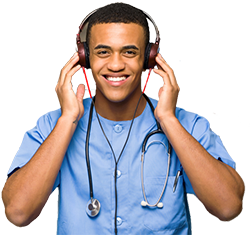 "Our phones started ringing even before our first commercial on Detroit radio ended," says Dr. Kairi Horsley, DPM. He and his father, Dr. Barton Horsley are co-owners of Horsley Foot and Ankle, a podiatric medical practice in Southfield.
"That was, in 2015," says the younger Dr. Horsley. "Five years later, our commercials still bring us 12 or 13 new patients every week."
Before 2015, the Horsely's had been no stranger to the power of radio.
When Dr. Kairi joined the practice after his medical residency at the Michigan Surgical Hospital, the two Horsley's teamed up to purchase time for their own talk show on AM radio. During their program, the doctors would discuss prevention and care for the pathologies and diseases concerning the feet.
"We were finding enough new patients from the show, so we weren't losing money," says Dr. Kairi. "But, I kept thinking there could be a better way."