"Our phones started ringing even before our first commercial on Detroit radio ended," says Dr. Kairi Horsley, DPM. He and his father, Dr. Barton Horsley are co-owners of Horsley Foot and Ankle, a podiatric medical practice in Southfield.
"That was, in 2015," says the younger Dr. Horsley. "Five years later, our commercials still bring us 12 or 13 new patients every week."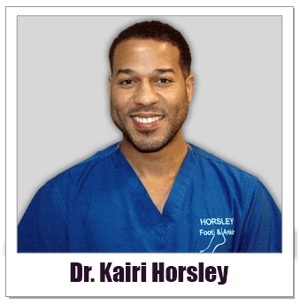 Before 2015, the Horsely's had been no stranger to the power of radio.
When Dr. Kairi joined the practice after his medical residency at the Michigan Surgical Hospital, the two Horsley's teamed up to purchase time for their own talk show on AM radio. During their program, the doctors would discuss prevention and care for the pathologies and diseases concerning the feet.
"We were finding enough new patients from the show, so we weren't losing money," says Dr. Kairi. "But, I kept thinking there could be a better way."
The 'Better Way' To Find New Patients
That better way came in 2015 when Dr. Kairi realized that both he and his patients enjoyed the adult-contemporary music on the radio station playing in the office.
"I remember thinking to myself, if this is what the patients like listening to, then maybe we should be advertising on this type of radio station." His father, though, wasn't quite as sure.
"It was hard for my Dad, at first," says Dr. Kairi. "He had built the practice doing things a certain way. Now here I was, barely out of school, and asking him to change the way he had always done things."
The two doctors agreed, however, to test a 60-second commercial on a music-based, Detroit radio station.
"Almost immediately, we saw a big influx of patients. So, my Dad, too, became sold on the benefits of radio advertising," says Dr. Kairi.
Since it first started advertising on Detroit radio in 2015, Horsley Foot and Ankle has been running commercials consistently across two stations.
"Our pattern is one week on and then one week off," says Dr. Kiari. "We also continually freshen-up our scripts, so the listeners don't get bored."
The results of the Horsley's continued advertising investment has been profound.
The Majority Of New Patients Come From Radio Advertising
"The majority of the new patients we see every day come because they heard about us on the radio," says Dr. Kairi. "We get more patients that way, then we do from referrals."
In all, Dr. Kairi estimates that their radio advertising brings in almost 700 new patients every year.
"Before we started advertising on the radio, most of our patients were local to our practice. But once our commercials began, we now regularly see patients from all over Southeast Michigan."
"We have patients from Mount Clemens and Pontiac. We even have one patient from East China, 57 miles away. The only way they can know about us is from our radio advertising.
"What amazes me most," says Dr. Kairi, "is that many of our patients drive past a lot of other podiatrist offices to come to us. I know it's because of the trust we have built through our consistent advertising."
"I can tell the weeks we are not advertising on the radio," he says, "because the phones stop ringing."
More Advertising Advice For Detroit Small Business Owners